Okay... at first i think i should mention that my tast of music is really different things... ut most of it is heavy, rock, metal and so on... so... I felt over this Danish artist named
King Diamond
at the liabary... and his amazing CD
"House Of God"
... this CD and all it's songs tells a hole story if you hear them all at the same time... an amazing but terrilbe story... but really worth read or hear... but well... as you probably already has guessed I want to write the story down here... the story is about Jesus, God, Devil, and "THE HIGHEST" which are over God and Devil and more powerful... and of course it's about love too... it's tells about "the real story" about the christian religion and how it all should be a lie... if you of course want to believe that...
whee
but anyway... it's an amazing but really terrible story... but if you don't can't take to be a little terrified then you should not read it...
And as King Diamond himself had said about it: "Just keep in mind, that most stories are just that. Something told by someone else, without the facts to prove it. However, this one... this one makes me wonder."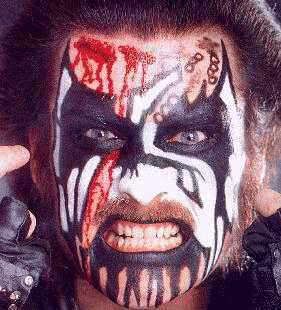 of course in this one i have wrote here all the repetition is not in it as in a normal song. that means that i have not wrote the chorus more that once.
And Please read it to end if you have begin on it... or else you will not find any meaning of it and the amazing you will just not get...
_____________________________________________________________________
UPON THE CROSS
Upon the cross he did not die, they toutured him, but he survived. Smuggled across the open sea, to South France, tranquillity. There he married Magdalene, and founded another dynasty. A church was built upon a hill, to serve all of the gods and will.
THE TREES HAVE EYES
I'd been riding hard most of the night, the wooded ravines on a mountain side. My Horse was getting tired...and so was I. Up there the moon was full, down here darkness ruled. The trees were so much higher than they were meant to be.
In what is known as "the Devil's Hide". I knew I was not alone, and it was not that crazy moon above. Oh no...I could feel the trees have eyes
I used to know this road as well, many a time I was here before. But now it seemed so different, the road was no more. I was lost, I stopped and looked around. I had this eerie feeling, that I was being watched
Watching me... The trees have eyes, watching me
Then the sound I didn't wanna hear, howling at the moon. Eyes I didn't wanna see, I should have turned around
So much louder, the howling was chilling my bones. One wolf grown to a dozen, and here I was alone. Yellow eyes...they were everywhere...yellow eyes...as I prepared to die
Suddenly there she was, in a halo of light. Suddenly there she was, silvery black and white. The bluest magical eyes staring right into mine. Never ever had I seen in a wolf such a beautiful beast.
FOLLOW THE WOLF
The morning slowly came, my life about to end. Then the wind would change, all but one had left. The angelic wolf had stayed, without a word she said
Follow me, follow the wolf. And so I followed the wolf. up the wooded mountain side. Close to the top...she suddenly stopped. Sun to the East, man and beast. Just two silhouettes...in a landscape never to forget
Like dark decaying teeth, I saw the village beneath. A few distant roads all leading away from here. Nobody in the streets...decay. I must follow the wolf again, I must follow it till the end. The end
The wolf had turned around, facing higher ground. And there it was...The House Of God. In awe I looked as time had stopped. Follow me
I had never seen a church like this before. "This Place Is Terrible" inscribed above the door
Like dark dedecaying teeth, I saw the chirch within. A few distant thoughts, inviting me in to sin. Nobody in the church...decay
Shrouded in a gloomy light, ad if my final night. I wonder if God was ever here. Or did he turn away in fear, did he turn away in fear?
HOUSE OF GOD
Once inside, everything would change before my eyes. No more decay. Glorious beauty had taken its place. But in horror...I watched as the wolf...began its skin to shed. I grabbed a silver cricifix expecting evil to be next
To the floor it fell, the crusifix, the wolf was no more a beast. Instead a lady only dreams can create. Creeping deep into the heart I never had
"I'll love you forever...never leave"
It was love at first sight, in true love there is no wrong or right. I didn't care from where she came, just her name...Angel. Then a kiss, soft and warm, my love, am I really not alone?
Nights of heavenly sin, in the House Of God, I found...true love
Plenty of food and wine, and so we laughed and we dines. we made love in the holiest of places. All the passion, it made us crazy
Angel...Angel...Angel...Angel where are you now?
BLACK DEVIL
There he was that little man, sitting by the alter...Black Devil. Carved in stone so dark and cold...Black Devil. Help me, Help me, cause I don't know what's going on
It was the early morning of the seventh day. I had been making love to angel in every singe way. The sun was peeking through a window high above. That's when I saw her kiss the little devil on his head
Black Devil...if you could only speak...Black Devil. What do you see when you're looking at me?
There he was that little man, fingers spread like claws...Black Devil. I wonder what it is he knows...Black Devil. Help me, help me, cause I don't know what's going on
When I look around, this church on holy ground. There are things within, that should have never been
Why two pulpits in a place like this? One facing to the East, the other to the West. One of the guilded canopies have gargoyles in the sun. And on the other canopy I see demons having fun
Black Devil always near, why don't you want me here? I can feel your hate in my soul, I wonder what it is you know, Black Devil...what's goung on?
THE PACT
Outside the leaves are slowly falling from the trees. Black clouds are moving in, a storm is coming on. Inside the confessional, Angel and I are playing games. I'm acting the priest, and she is the sinner fo all my dreams... Dreams, dreams turn nto a nightmare. A sudden change on her face, her smile is gone without a trace
"nothing...nothing is forever", she said: "so many things are wrong in here, so many times I've lived in fear. A year ago...I signes a sacred pact, and if you love e so will you"
Then she told me of the Pact, her tears were not an act. And they were not alone, all my dreams...shatteres to the bone
I fell to my knees in prayer...but ohhh this is Hell
The Pact is so powerfull, it leavea you no way out. Unless within a year, someone else will sign it in blood. Soneone to take your place, to guard this evil church. Another wolf to roam the hills, another wolf...in for the kill
If I sign it now, Angel will be free to go. She must leave without her memory, no more a wolf, but as a lady. And if I don't then in seven days, she will die before my very eyes. Either way...I'll never see her again
If I sign then I must stay, and only leave as a wolf for prey
"nothing...nothing is forever", she said: "so many things are wrong in here, so many times I've lived in fear. A year ago...I signes a sacred pact, and if you love e so will you"
And now I'm signing it for you
GOODBYE
So many tears in my eyes, I have to look away. How can I say the word, that never should be said
I lay my broken heart to rest, and so I set you free. I wish you only the best, even if it's not with me
Fly away
Beautifulangel fly away to better things
JUST A SHADOW
Again I'm so alone, the wine is pouring down. No one to share with, no one to care with. The only light in my life. Comes from the candlelight, black candles left behind. As I'm sitting through the night. I'm so cold and dark inside. Angel, your memory will haunt me till the day I die
Just a shadow, a shadow of a man. I'm just a shadow, a shadow of a man. The eyea of statues standing along the nave. They seem to follow my every move, every tear I shed
i am no longer of the living, but I am still not dead. I'm somewhere in between, I am of the unseen
Must we have the other side, just to feel alive? Oh I wonder what would be had we not created me
Just a shadow, a shadow of a man. I'm just a shadow, a shadow of a man. The eyes of statues, standing along the nave. the seem to follow my every move. They drives me insane
Surrounded by darkness in this cold church of thine. I try to rememer, all that once was mine. I don't know what tomorrow will bring. But if life is so devine, how come I suffer so in mine? How come I suffer in mine?
i am no longer of the living, but I am still not dead. I'm somewhere in between, I am of the unseen. I lived a lifetime of sorrow and hate, up until the other day. That's when I left this sick old world behind. Oh how love can make you blind
HELP!!!
Help...help...can anybody hear me now? Help...help...my mind is lying on the ground
I don't know, I just son't know if I'm still alive. I see the sun, the sin is up again, another day of just the same
I'm slowly going mad, emptiness is all I have
In the mirrors on the wall, with the crosses standing tall. I see misery take another hold of me. I'm hanging on to a memory...I'm hanging on to myself. The wine is turning sour, I'm longing for my final hour. never to be free, cursed for eternity.
I'm hanging on to a memory...I'm hanging on to myself
Be it God or Satan, whoever you are. You're hiding in the shadows. you cursed me with the Devil's mark
I smash the mirrors...the mirrors on the wall. I have to smash them all before they crush my soul. Help...blood...I'm bleeding now, Help...I'm bleeding bad. I'm bleeding on the floor. Help...help... I can't take this anymore
((loud sound is heard of something big and heavy made of atone moving across the floor))
PASSAGE TO HELL
What was that sound? I slowly turn around, aomething moved. A void of darknessin the floor, where the alter stood. I move a little closer, cause I cannot see from where i stand. Blood still running down my arm, from all the cuts in my hands
I must enter the unholy cell. I must enter the passage to Hell
Someone is ringing the bell. But there is only me, there is no one else. I think I hear a voice from deep within the hole. I wonder who could be in there, the strong smell of old
I can barely see the stairs below. Stairs on which my feet must go
CATACOMB
Down into the dark I go, armed with just a candle and then my soul. Cryptic messages written on the floor. Rats are nibbling at my feet, I send one off to nevermore
Too much darknes, spiders on my evet. Webs are hanging from my thighs, the fatter one must die. I see shadows walking straight and tall. I don't know how they move, dancing on the walls. Presence of fear, a presence so near. I wonder what could be so powerful beyond the dark
Human bones...in little chambers along the narrow halls. Catacomb, death over life...Catacomb, am I here to die? I see a light, I push some bones aside
Down into the dark I go, another chamber, a chamber with a glow. Could this be a doorway to another world? Or darkness playing tricks, with my little mind?
The virgin Mary is standing tall. A full size figure carved in wood up against the wall. Her face is peeling from the years gone by. Is it just a statue, or is it what I'm looking for? I break her face and see another one instead. The mummy's face as the bandages they fall.
Dried out face with hate upon me gaze. How grotesque...the mummy wears a crown of thorns. From the empty socket where its eyes should be. An eternity of light is pouring out towards me. And then the sound...Jesus Christ, what have they done to you?
I'm running from my life, I'm running from the night. But it's so hard to breathe, the stench down here id much too much. Satan help me, help me God. Help me anyone, anyone who hears my cry of fear. Cold winds from far beyond the dark. Chasing through the catacomb and breathing down my neck
THIS PLACE IS TERRIBLE
I'm back in the church...night has taken over. Imm breathing hard...in the dark. Through the hole in the floor, I hear the wind from the catacomb. Here it comes, out from the hole, a magnificent light. Blinding the entire church
Contorted faces and bodies too, powerfull entity floating high above. I was no nore scared of dying, but I was terrified of knowing the truth. I donøt want to, ut I have to..I have to know who you are
"You have entered, where no human must go. You have seen the lie...the lie about the cross""I am many...We are One, THE HIGHEST. You'll never know why we kept Him here. The one who did not die on the cross. Could it be we kept Him away from God...so he may never walk. Never walk the Earth again?""Or could it be that We've kept Him... safe from YOU. So you may never try to do again what...you did back then? I guess it all depends on who you are. I guess it all depends on who you really are""God and Satan are ut puppets on OUR strings. Creating conflicts in your little human minds,keeping US alive. It doesn't matter who or what you think We are. It only matters that you know We are. God, The Devil, good and evil, We're all that and much more""Live this life the best you can, and leave the rest to US"
But I can't...I won't be the one that feeds an unknown Gos
Show to mankind that You really exist. And then explain to us the meaning of chaos. Give us reasonto persist, to go on living through this Hell on Earth. All I want is peace of mind from all you non existing Gods. I et that not even You will ever understand the truth. Cause YOU are nothing but a puppet on even higher strings
Your unholy eyes, I wanna sew them shut. Oh you meaningless little God, and so I choose death over you. Up up the gray cold stairs, up into the tower of Hell. With a rope in my hand, I'm searching for the unknown land. FATHER OF THE UNIVERSE, here i come...THIS PLACE IS TERRILE
PEACE OF MIND
...
_____________________________________________________________________
Well that was it i guess... hope you liked the story... 'cause it took me very long time to write all that down...
4laugh