Julia, twin number one.
Birthdate; December 1st, 0878
Name:
Julia Darquehart
Age:
16
Bio:
Julia Darquehart was born in the city of Darmacus, Entaria country. Before I say anything about Julia's past, I must give you a little background on Darmacus city. Darmacus City was mainly revolved around strength and courage. Darmacus citizens were always focused on getting stronger, making their city to have a good impression on others. In the center of Darmacus City, there is a huge battlefield called 'D-heart', but mainly referred to 'The Mother of Darmacus', that has been there for over fifty years. Every day, Darmacusians would gather around the battlefield and watch as others implant their fists in the other persons' face. Violence, battles, fights, arguements was merely out of entertainment. If you were yelling at somebody from Darmacus, and you were dead serious, that person would just laugh at you and walk away. In Darmacus, everyone is equal, and they believed that anyone could do anything. They believed that women could be just as strong as men, which is why the city is so peaceful, and also why all relationships between males and females were healthy. It does not come as a surprise when you see a woman fighting a man on D-Heart. It's exciting for the Darmacusians when they see this kind of battle. And if the woman loses, well, no one took pity because they didn't need to. Mostly all women recovered within two days from injury. Other cities constantly relied on Darmacus in war, and still does. Darmacus is the strongest city in Entaria.
Now, back to Julia. Julia and Julius were raised to be strong, and to never let anyone's words or actions phase them whatsoever. Julia trained with her family everyday to get stronger. She studied Tae Kwon do and Karate, and eventually mastered both. Same with her sibling. , when she was about 12, her father had granted his children with the sacred magic weapons of their ancestors, soon to be passed down to their children. Her mother had said that Julia's weapon was once hers, and that it helped her greatly on her great adventures. Since then, Julia looked up to her mother and tried to be just like her. Later after they had received their magical weapons, they had leveled on to master on how to handle and fight with magic from their mother. But the siblings never accomplished on mastering it, because their mother had disappeared from their lives.
When Julia and Julius turned 14, their mother had died from a rare disease, and the people of Darmacus told the Darquehart twins to be strong, and that she was in a better place. The twins took the words so close to their hearts, so close that they weren't afraid to talk about her. Julia eventually started to become closer to Julius than she had ever did before. They trained together, hunted together, and went on missions together. For a while, Julia and her brother were in a guild, looking for criminals to capture for money. Julia insisted that she and her brother dropped out of the guild because she was afraid to get too distant from her father. After they dropped out, their father had passed away in a deadly battle, and they were left to face life by themselves. Their magic weapons were no where to be found at their home. The mayor of Darmacus said that the ones who killed their father made their way somewhere in a faraway country called Mantoya, and something about a time realm. The country was impossible to enter, because only people that handled elemental power could enter Mantoya. Of course the siblings couldn't enter because they have never mastered the elements of magic.
A year later, Julia met with Odin Trueborn, an elemental master, from the country Crostperal. Julia heard that Odin was heading towards the Mantoyian Sacred Time Realm that was rumored to still exist in the midst of magic portals. She figured that if she traveled with Odin to the Sacred Time Realm, she could get revenge on the ones who slaughtered her father and to find out why they had done it, also to retrieve her weapon and her brothers' as well.
Now she and her brother travel with Odin and a few others to Mantoya country.
Personality:
Julia is very short-tempered and childish. She gets irritated when things just don't go her way, and she often takes it out on other people. The only person she could trust with all her heart is her brother, Julius. Julia is so blinded by her irritation and anger that sometimes she doesn't even stop to think or consider the other person's feelings whatsoever. Despite her temper fuse, she is really sweet on first meetings, but if you get too attatched, she'll show her mean side once in a while. Slowly and gradually Julia had begun to have a crush on Odin.
Appearance: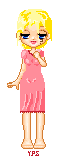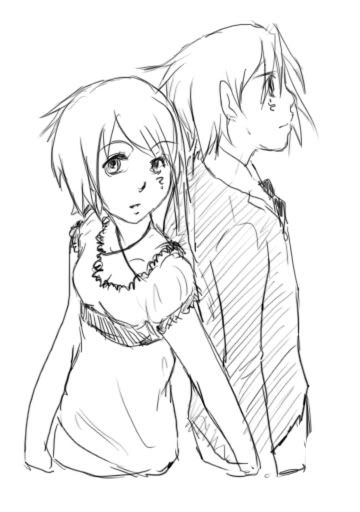 Julia is on the left.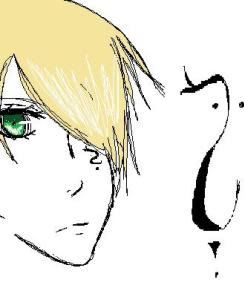 Julia is on the right.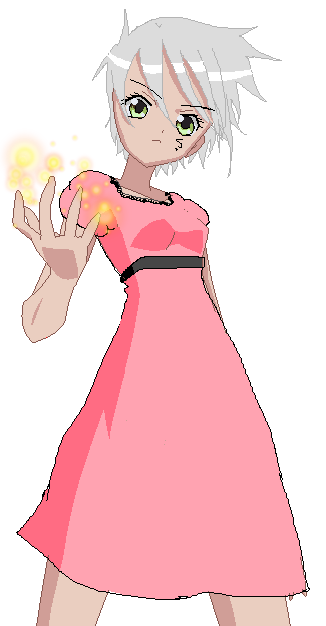 Details:
Hair color:

Gray


Hair style:

Similar to Hikaru and Kaoru Hitachiins' hair. XD Her bangs are swept to the right. For those who don't know Hikaru and Kaoru Hitachiin. Pretty close to that, but her hair is a tad longer. O wo


Eye color:

A deep, dark green.


Facial features

: Has a birth mark under her right eye. Similar to a reflected letter "S" with a dot under it. It's actually more detailed than that, but we're gonna stick with a reflected "S". XP
She has a baby face. No signs of maturity, there.


Other important things:


-Her chest is small.
-She's 16, but she is very childish. So please don't draw her doing a sexy pose or anything in that nature. (I have other characters for that.)

Clothing:
Julia has 1 outfit. Yes, it's lolicon because she is very girly and childish. O WO

1st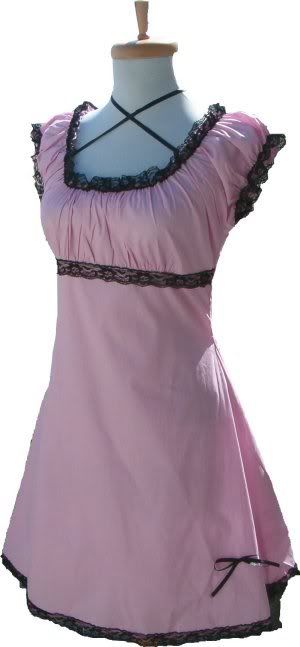 Weapon: