Erik Vannar Vincent
Birthdate; July 3rd, 0850
Name:
Erik Vannar Vincent
Age:
28
Bio:
Soon to be updated.
Personality:
Soon to be updated.
Appearance:
Erik and Shenara. The credit goes to nixna.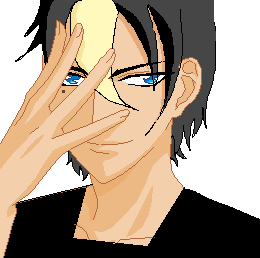 Erik, but he's supposed to have yellow eyes. ._.
Credit goes to temari chan39
Details:
Hair color:

Black


Hair style:

Has one blonde part in the middle, and the rest is black. His hair is shaggy, and is not ever kept together.


Eye color:

Yellow


Facial features

: He has sharp eyes, a nice profile[Which I will post on here one day], and a strong jaw line.


Other important things:


-Erik is always seen as with a cigarette. If you choose to draw him, please include the cigarette. It's just not his character without it. (Despite the pictures I get of him withouta cigarette. xD Still, include a cig please.)

Clothing:
A black vest-type thing with a orange symbol on the back, black pants along with boots.


Weapon:
A Colt M1911